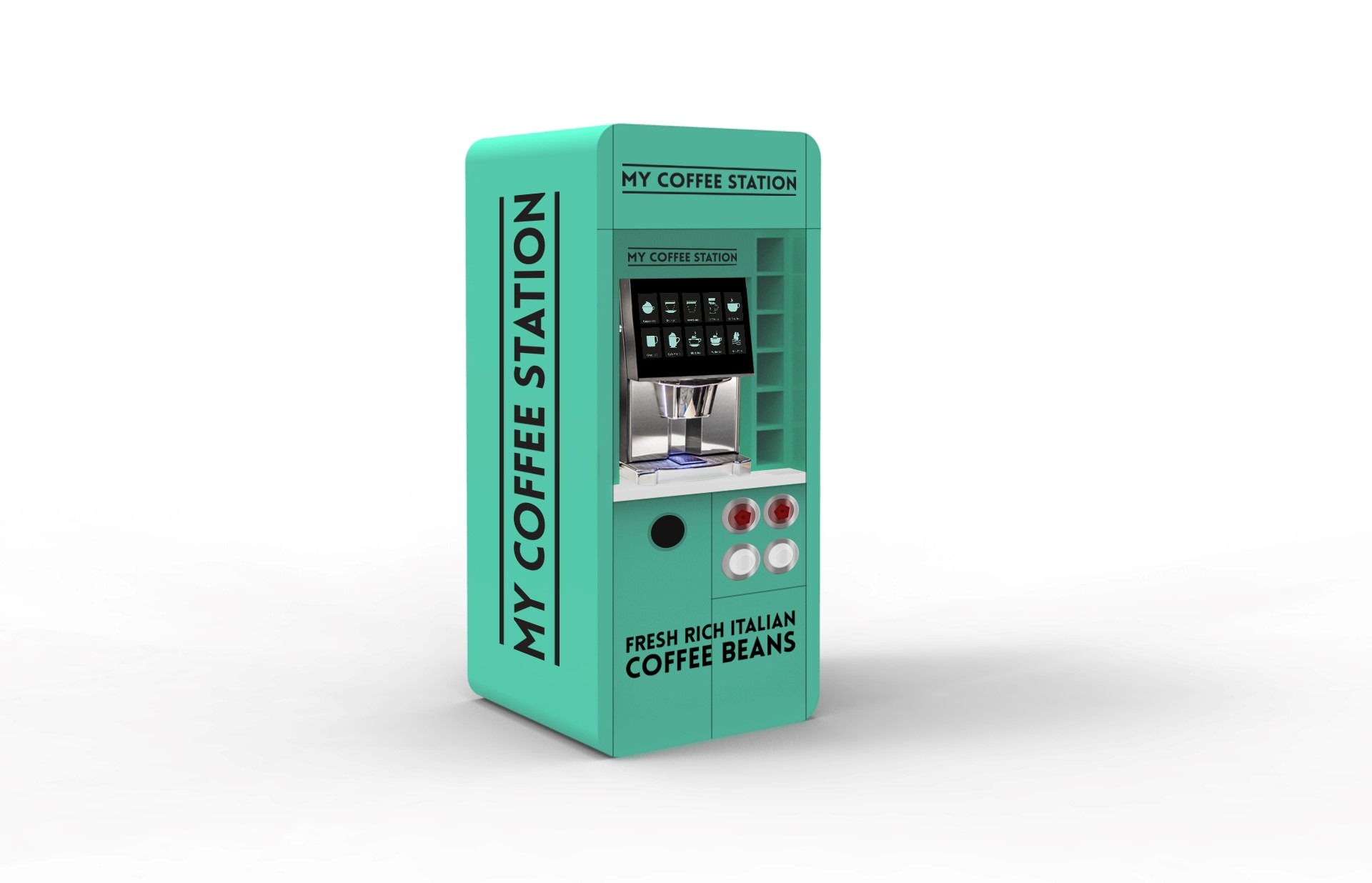 ABOUT THE PRODUCT
There is very strong growth in the UK coffee market for self-service coffee stations. The concept is to take high street coffee-shop quality into areas where we can increase the pleasure of visiting  for your customers and provide you with an additional source of revenue.
 

We offer to install the equipment free of charge and supply all of the ingredients free of charge (including 12oz double walled cups). You receive a pay-back from every cup of coffee served. The equipment includes detailed data reporting which is accessible by the site.

The equipment incorporates a high pressure espresso coffee machine using fresh coffee beans. From the smoked glass touch screen the customer can choose from a range of drinks including Espresso, Cappuccino, Café Latte, Americano, Chocolate, Café Mocha and freshly brewed tea. The coffee beans, leaf tea and hot chocolate are all Fair Trade products and all drinks sell at a minimum selling price of £1.75. The cabinet is of an all metal construction with a stainless steel serving area.

The store has no capital cost and no ingredient costs but receives a pay-back from every cup sold starting from the very first cup. At an average of 10-20 cups the profit is 45p per cup and at an average of 20+ cups per day the profit is 55p per cup for every cup, this is based on the £1.75 selling price  The account is settled fourteen days after invoice.

We can provide POS material, A Frames and posters to display outside your store

Click the box to read more
The Profit Maker
The rapidly growing trend towards 'grab and go' coffee and snacks is an opportunity too great to ignore. In addition to the primary revenue created, the additional footfall creates tremendous opportunities for spin-off impulse sales.
My Coffee Station can move your outlet into this market without capital outlay and with a fully managed service. Your staff are free to run the retail operation without the need for training on coffee equipment. We also alleviate the constant programme of re-training caused by the inevitable staff churn rate.
The profit share scheme ensures that you makes a return from the very first cup of coffee purchased without a period of equipment cost amortisation.
Exceptional Service
The majority of our installations take place out of office hours allowing you to continue normal operations. Our engineers will liaise with on-site contractors, advising on plumbing and electrical requirements.
We don't just deliver your machine, we plan to ensure that the whole process from delivery to installation runs as smoothly as possible and in compliance with health and safety regulations.
Our process starts with an on-site visit by an engineer who establishes accessibility to the building and to the area where the equipment will be placed.
Sustainable Cups
Looking after the environment is essential to provide for future generations. Our cup manufacturing process uses a principle region in Scandinavia for board supply and now has over 50% more trees than they did 50 years ago. Certificated sustainable raw material supplies only are used in our cup products.
Our suppliers also innovated in the use of water based inks in paper cup printing, over fifteen years ago and remain one of the few suppliers that can boast this benefit for customers.
Our supplier's custom print service allows us to communicate with our customers in order to reinforce our message and maximise consumer brand recognition. With their six colour printing technology, we can take our personalised message to the consumer in even more exciting and innovative ways. The My Coffee Station quality hot cup replaces the need for 'double cupping', the use of sleeves or jackets and wrapping with napkins.